𝐒𝐭𝐮𝐝𝐲 𝐢𝐧 𝐂𝐲𝐩𝐫𝐮𝐬 𝐰𝐢𝐭𝐡 𝐫𝐞𝐚𝐬𝐨𝐧𝐚𝐛𝐥𝐞 𝐟𝐞𝐞𝐬! 𝐅𝐥𝐞𝐱𝐢𝐛𝐥𝐞 𝐞𝐧𝐭𝐫𝐲 𝐫𝐞𝐪𝐮𝐢𝐫𝐞𝐦𝐞𝐧𝐭𝐬!
𝐒𝐭𝐮𝐝𝐲 𝐢𝐧 𝐂𝐲𝐩𝐫𝐮𝐬 𝐰𝐢𝐭𝐡 𝐫𝐞𝐚𝐬𝐨𝐧𝐚𝐛𝐥𝐞 𝐟𝐞𝐞𝐬! 𝐅𝐥𝐞𝐱𝐢𝐛𝐥𝐞 𝐞𝐧𝐭𝐫𝐲 𝐫𝐞𝐪𝐮𝐢𝐫𝐞𝐦𝐞𝐧𝐭𝐬!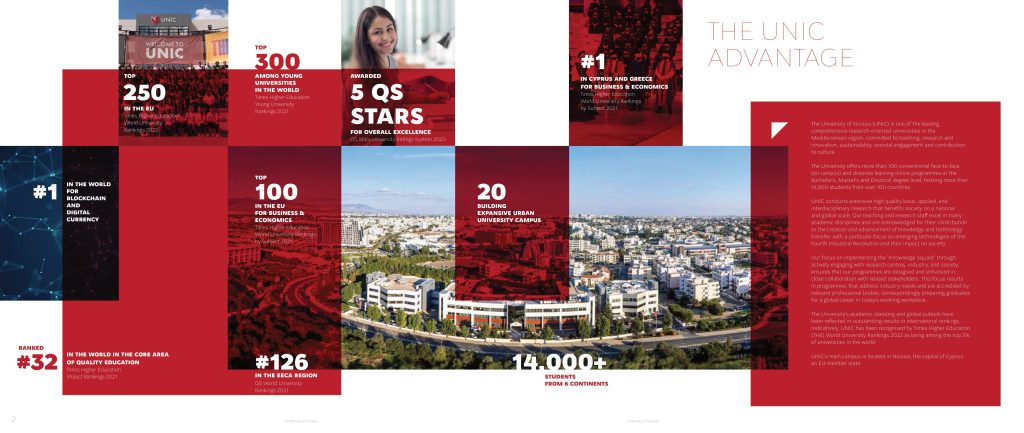 Why University of Nicosia, Cyprus?
Nicosia #1 small European city of the future for human capital and lifestyle, ahead of Oxford, Geneva and Basel.
TOP 300 AMONG YOUNG UNIVERSITIES IN THE WORLD
Awarded 5 QS STARS FOR OVERALL EXCELLENCE QS Stars University Ratings System
#1 IN CYPRUS AND GREECE FOR BUSINESS & ECONOMICS
100 IN THE EU FOR BUSINESS & ECONOMICS
14,000+ STUDENTS FROM 6 CONTINENTS, 100+ COUNTRIES
TOP 3% in the World
CYPRUS: THE SAFEST COUNTRY IN THE WORLD FOR STUDENTS
Entry requirements:
Undergraduate: GAP 3.5 and above out of 5.0
Postgraduate: CGPA 2.0 and above out of 4.0 IELTS: Overall 6.0 and above
Average Tuition Fee:
Undergraduate Tuition Fee EUR 9,120 per year
Postgraduate Tuition Fee EUR 7,200 – EUR 9,240 per year
Next Available Intake: Fall 2022, Spring 2023

Without IELTS: IELTS Waived if GCSE English Language "O" Level – C and above
Please feel free to connect with your dedicated Account Manager by a quick Call/WhatsApp or reply to this email to know about entry requirements, application deadlines etc.
Disclaimer: The information listed is subject to change without notice and should not be construed as a commitment by Admission.ac