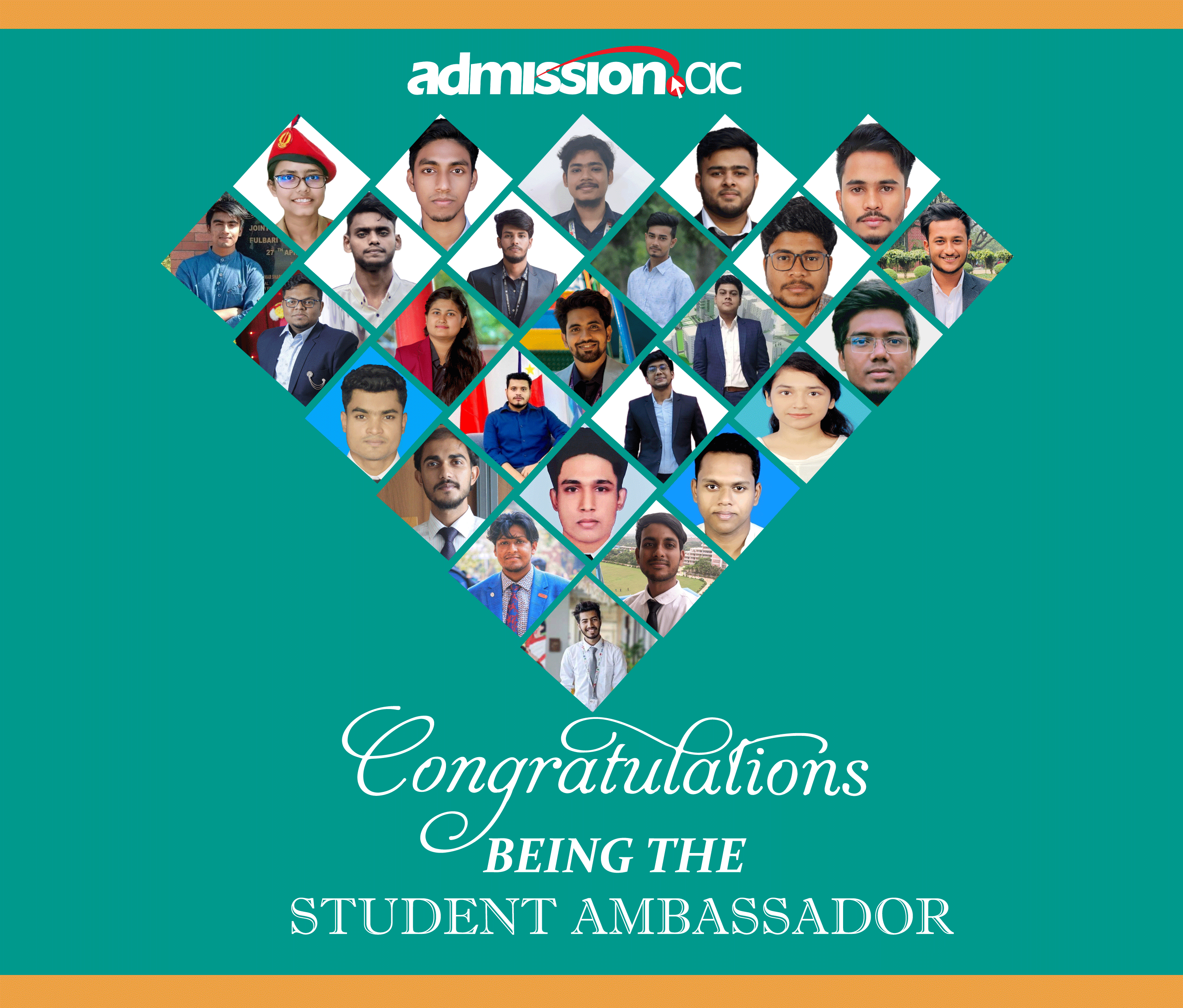 Congrats to our Student Ambassador 2.0
Congrats to our Student Ambassador 2.0
To announce our "Student Ambassador," we are ecstatic. Let's lend a hand as we warmly greet the campus's rising stars. A life milestone that is thrilling for everyone is acquiring a new activity. Being able to express your joy in a considerate letter is a wonderful approach to assist others and be a good friend or family member. This exercise, in our opinion, benefits your future career and life.
After receiving over 300 submissions from various institutes, we are happy to present our list of Student Ambassadors today. Especially with an incredible year ahead for our company, we are beyond thrilled to have you officially join the team.
Meet our new Student Ambassador 2.0, Admission.ac.
Sumaiya Khatun
Shifatul Islam Emon
Soyed Mehedi Hassain
NayeemSalman Rahman Poran
Rashedul Islam Shefat
Riyadul Islam
Mushfiqur Rahman Shanto
Mostain Billah
Shimul Chakraborty
Mohima Sharmin
Minhadul Nithil
Md. Eftakhar Amir Alif
Md. Rasel
Md. Maruf Masrafe
Md. Jobayed Hossain Rabbi
Md. Amir Faysal
Md. Abdur Rakib
Md. Abdur Rafi
Md Salman Mahmud Somrat
Md Naimul Islam Noyon
Md Kamruzzaman
K.M. Arafat Islam
Ariful Rahman Tuhin
Mohd. Anzmul Karim
Rabeya Afrin Muniya
Jannatul Mowa
Mehraj Hossain Mahi
Mehedi Hasan Nayeem
Sayad Md. Asif
Md Naimul Islam Noyon
Sumiya Akter