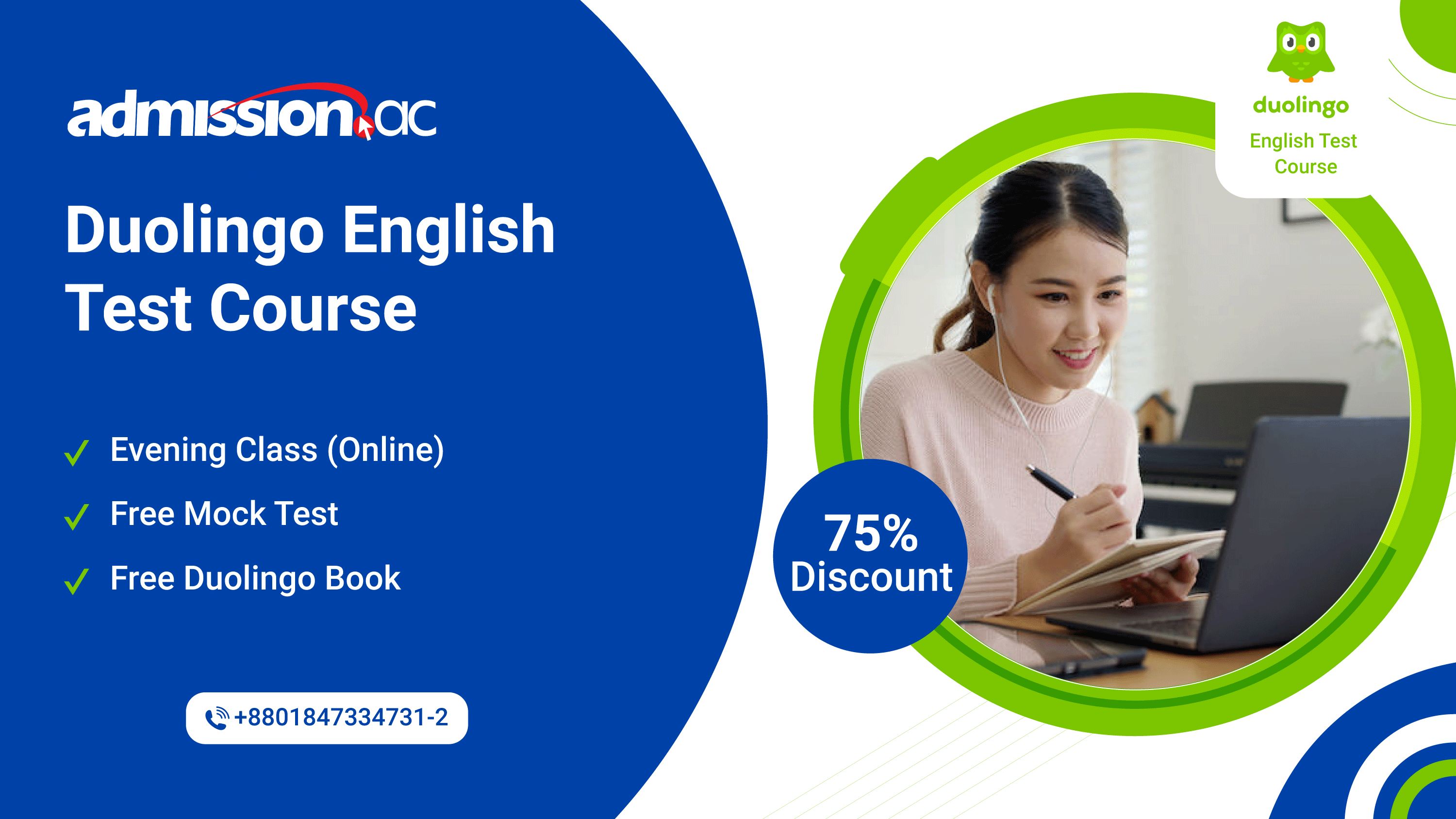 Duolingo English Test Course (online)
Duolingo English Test Course (online)
Admission.ac (a concern of Daffodil Family) is proud to offer an Online Duolingo English Test (DET) Course to individuals seeking to enhance their English proficiency and unlock success in studying abroad. Our course provides professional guidance and support, ensuring students have the necessary skills to achieve their desired DET scores.
About Duolingo:
Duolingo is an American educational technology company known for its language learning apps and language certification programs. With over 40 language courses available, including popular languages like English and Spanish, as well as lesser-known languages such as Welsh, Irish, and Swahili, Duolingo has become a reputable platform for language learning. The Duolingo English Test (DET) is an internet-based standardized test of English language proficiency, similar to TOEFL, IELTS, and TOEIC.
Course Highlights:
Our Online DET Course is tailored for individuals aiming to excel in English proficiency. Alongside professional guidance and support, students will learn valuable tips, tricks, and strategies, including:
Techniques for online exams
Effective writing strategies
Fluency in English speaking
Vocabulary enrichment
Grammar contraction
To ensure a holistic learning experience, our course incorporates various activities such as class lectures, group studies, practice sessions, and assignments.
Why Choose DET over IELTS or TOEFL?
There are several advantages to opting for the Duolingo English Test:
Convenience: Take the test from the comfort of your own home.
Affordability: The Duolingo English Test costs only $49.
Speed: Get your test results within 48 hours.
Adaptive Testing: The test adjusts the question difficulty based on your performance level.
Innovative Technology: The Duolingo English Test employs AI-based scoring and utilizes online testing technology.
Over 4000 institutions worldwide, including universities in the US, Canada, Europe, and Asia, accept Duolingo as proof of English proficiency. Admission.ac has partnered with numerous universities that recognize DET scores.
Learning Outcome:
At Duolingo, our mission is to provide the best education globally and make it accessible to everyone. Upon completing our course, students will expand their vocabulary, achieve a proficient level of reading, speaking, and writing, and gain the confidence to succeed in their study abroad endeavors. With Duolingo, students can easily attain their desired scores and prepare themselves for a rewarding academic journey abroad.
Course outline:
New batch commences during the last week of every month with classes starting at 7:30 PM. Each class has a duration of 90 minutes. Rest assured, the course is designed to be completed within one month.
| | |
| --- | --- |
| Class No | Topics |
| Class 1 | Select English Real Words, Missing Words, Listen and Speak |
| Class 2 | Interactive Reading Part, Interactive Listening part |
| Class 3 | Writing Part, Image describe a loud, Write about the Image |
| Class 4 | Dictation, Speaking part (listen and speak)(Read and speak) |
| Class 5 | Test class with Revise. |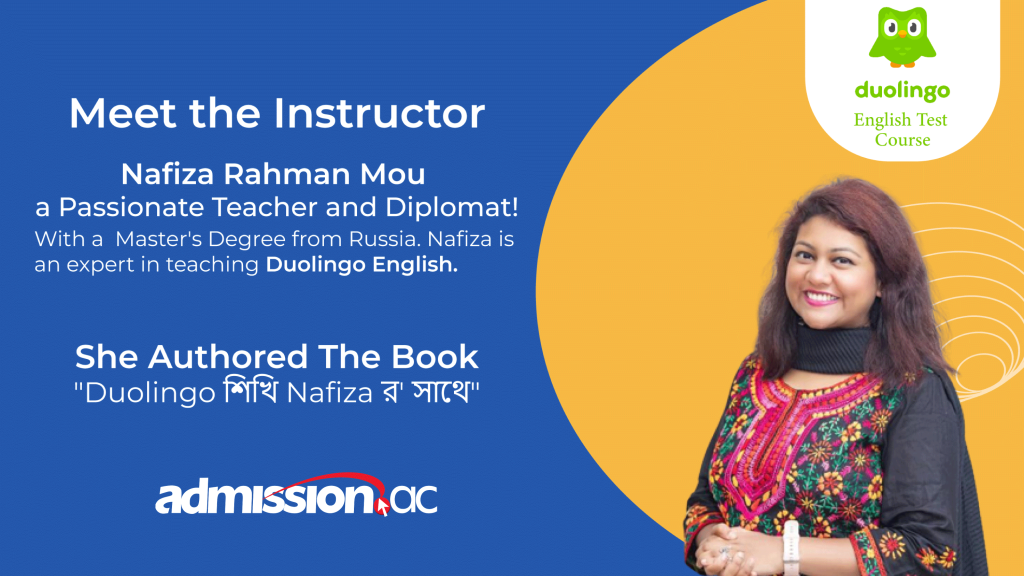 In addition to the mentioned features, Admission.ac also provide additional facilities to cater to the needs of students. Student can avail the well-equipped Exam Room facility, which is designed to create a conducive environment for your tests. Student can get test booking support to assist throughout the process. Moreover, the program includes personalized 1:1 mentoring sessions with expert instructors, ensuring that you receive individualized guidance and support.