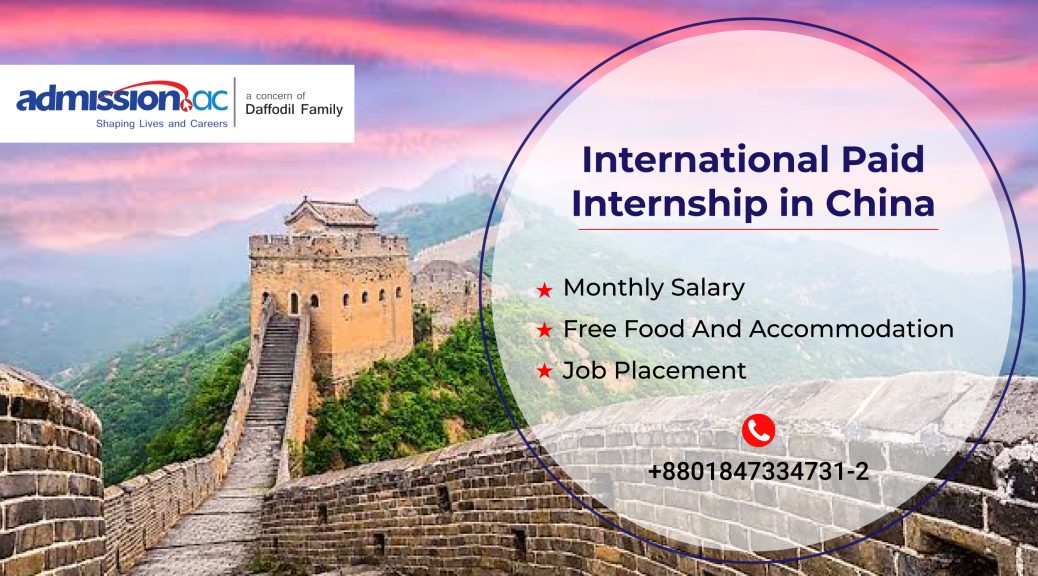 Exploring International Paid Internships in China: A Gateway to Global Careers
Exploring International Paid Internships in China: A Gateway to Global Careers
In today's interconnected world, the quest for professional growth often leads individuals to seek experiences beyond their borders. One such avenue that has gained significant traction in recent years is the pursuit of international paid internships. Among the diverse options available, China stands out as an emerging hub for career-driven individuals seeking to broaden their horizons. Admission.ac, a concern of Daffodil family brings this opportunity especially for you. In this blog, we'll dive into the world of International Paid Internships in China (IPIC) and explore how they can serve as a gateway to global careers.
The Allure of International Internships
Why are international internships so appealing? The answer lies in the multifaceted advantages they offer. Here are a few compelling reasons why individuals are increasingly looking beyond their home countries for internship opportunities:
Cultural Immersion: International internships immerse participants in a new culture, providing insights into different ways of life and diverse perspectives.
Professional Development: These internships offer the chance to gain hands-on experience in a global setting, enhancing skills and knowledge.
Networking: Building a global network of professional contacts can open doors to international career opportunities.
Language Proficiency: Interns often have the opportunity to improve their language skills, a valuable asset in today's multicultural job market.
Global Perspective: Exposure to international business practices and markets can broaden one's understanding of the global economy.
Your global adventure begins here!
Where
Hainan, China
Placement
4 & 5 Star Hotel, Resort, RestaurantIT FirmE-commerce Company International Business
When
Full year round
Internship Duration
6 month to 1 year
Work hour
8-9 horse a day ( including break)
Job opportunity
After successful completion of internship
Salary
1800 RMB / Month
Food, Accommodation & Health Insurance
Will be provided by the company
Who can apply
1. Bachelor/ Masters/ Diploma holder or degree processing students or young professionals
2. Major should be in the hotel/hospitality/Business & IT  
3. Age below 25
4. Good health condition
5. Fluent in English   
6. No  criminal record  
7. Having  working experience is preferred
Fees
USD 200 – Internship placement, language training, Visa guidance
Other Cost
Visa application, Air ticket, Medical Checkup etc.
China: A Rising Star in International Internships
China has emerged as an attractive destination for international internships, with its booming economy and vibrant culture. Let's delve into why IPIC, or International Paid Internship in China, is garnering attention:
1. Monthly Salary: IPIC offers a competitive monthly stipend, ensuring that interns are financially supported during their stay in China. It's a genuine paid opportunity to kickstart one's career.
2. Free Food and Accommodation: Food and accommodation are often provided, reducing the financial burden on interns and allowing them to focus on their professional growth.
3. Job Placement Assistance: The benefits extend beyond the internship period. IPIC often provides job placement assistance, helping interns secure positions after they've completed their internships.
4. Cultural Immersion: Interns in China have the chance to explore a rich history, savor diverse cuisine, and engage with local traditions. It's a cultural adventure like no other.
5. Language Learning: For those interested, IPIC may offer Mandarin language courses, a valuable skill in an increasingly globalized world.
6. Professional Development: From business to engineering, hospitality to technology, IPIC offers diverse internship placements, catering to a wide range of career interests.
7. Networking Opportunities: Interns in China can connect with professionals, mentors, and fellow interns from around the world, expanding their global network.
Join IPIC and Unleash Your Potential
International paid internships, especially in a dynamic country like China, open doors to a world of possibilities. They provide a unique chance to enhance your skills, explore different cultures, and prepare for a global career.
So, if you're ready to embark on a transformative journey, consider International Paid Internships in China (IPIC). It's more than just an internship; it's a stepping stone to a global career. Don't miss out on this incredible opportunity to broaden your horizons and unleash your potential.