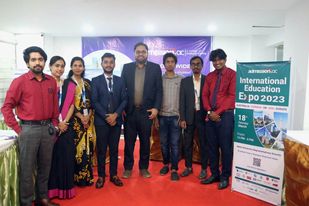 International Education Expo 2023
International Education Expo 2023
Every students have a dream to study in their favorite universities. In continuation of this, millions of Bangladeshi students migrate abroad for higher education every year.
In continuation of this, yesterday, Admission.ac, a concern of Daffodil Family, organized "International Education Expo 2023" at Daffodil Corporate Office, Dhanmondi.
In this Education Expo, the representatives of different countries like United Kingdom, United States of America, Canada, Australia and the representative of Europe were there. Hundreds of students have visited this program to get counselling directly from the representatives of abroad Universities to secure their future and also explore the opportunities to serve the world.
Our primary goal of the program, to fulfill a student's ambition of studying abroad, has been achieved, thus we are incredibly delighted to have organized it. It was noticed that, USA, Canada and Australia were the most desire destination of majority of the pupils. Students also expressed an interest in the UK and Europe. Our education expo has drawn students from a variety of backgrounds, including undergraduate, graduate, and postgraduate students. Not just students but instructors and parents have also visited our program.