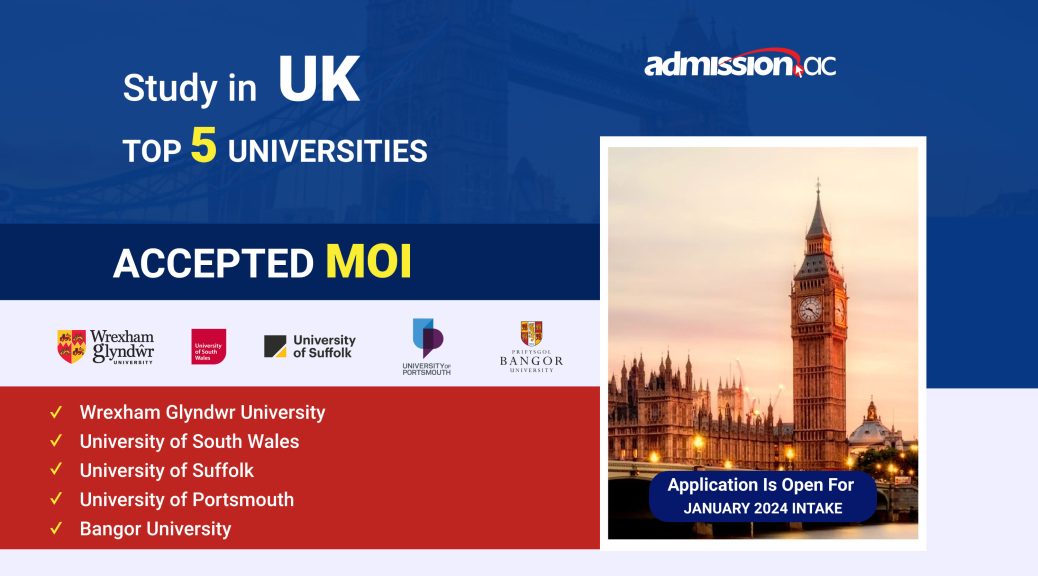 Top 5 UK Universities
Top 5 UK Universities
Embarking on a journey of higher education is a transformative experience that opens the door to endless opportunities and intellectual growth. Among the diverse array of options available to aspiring scholars, the United Kingdom stands out as a premier destination for those seeking a world-class education. Renowned for its historic institutions, cutting-edge research, and vibrant cultural tapestry, studying in the UK is a decision that promises not only academic excellence but also personal enrichment. Here, we delve into the captivating realm of higher studies in UK universities, uncovering the myriad advantages, unique aspects, and invaluable insights that await those who choose to embark on this remarkable educational odyssey.
University of Portsmouth
Portsmouth is located on the south coast of England, 70 miles (110 km) southwest of London and 19 miles (31 km) southeast of Southampton. There are more than 24,000 students, of which 5,200 are international.
World University Rankings gave the University of Portsmouth 5 stars for teaching, employability, internationalisation, facilities, arts and culture and inclusion. The University of Portsmouth is ranked 401st in the Times Higher Education World University Rankings and has 4.1 stars, according to student reviews on studyportals. 77 per cent of University of Portsmouth research submitted to REF 2021 was rated in the highest category.
Portsmouth's faculty strengths are geology, earth and environmental sciences, pharmacy and sports science, psychology, mechanical engineering, software engineering, computing and computer science, law, criminology and criminal justice, forensic studies, international relations, journalism and architecture.
Popular Programs:
MS. (12 months-2 years)
MIM. (1 year-14 months)
MBA/PGDM. (1 year)
B.E. / B.Tech. (3-4 years)
M.A. (1 year)
BBA. (2-3 years)
B.Sc. (3-4 years)
BHM. (4 years)
According to the HESA Graduate Outcomes Survey, 2019/20, graduate employment rates are among the best in the UK, and 9 out of 10 students are in work and/or further study. The University of Portsmouth offers a variety of scholarships. The £5,000 Best Begins Scholarship is for students who are academically good but have certain limitations that other students do not have.
University of South Wales
The university is located in South Wales, United Kingdom, with campuses in Cardiff, Newport and Pontypridd. Wales is part of the United Kingdom. South Wales has a vibrant city life, culture, nightlife, music festivals, award-winning beaches, outdoor adventures, history and breathtaking countryside.
It is a safe, affordable and welcoming place to study. Students also love the friendly atmosphere at the University of South Wales. All the campuses here are easily accessible by road, rail and air. Some notable reasons to study in this university are-
Campuses in three great locations
You're almost guaranteed a job – fast
A strong international community
Award-winning staff & facilities
USW research makes a big difference
Finding great accommodation is easy
Strong student support team
Why chose USW to study:
2500 GBP guaranteed scholarship per year
Tuition fees are very affordable
MOI accepted
Global MBA (2 years) and other lucrative courses
Post-study work facility available
Living cost in Wales is cheaper than in other cities in the UK.
Part-time job facility available
Over 50% of USW research is world-recognized.
Popular programs:
MPhil/PhD (Media) MPhil/PhD (Media)
MSc by Research (Built Environment) MSc by Research (Built Environment)
MPhil/PhD (Electronic Engineering)
MSc by Research (Civil, Mechanical, Aeronautical Engineering)
LLM Professional Practice (SQE)
MPhil (Writing)
MA English by Research
MSc Computer Science
Over 90% of students from Welsh universities find employment within 6 months of graduating. With such success in the world of work, the University of South Wales has a focus on employability and "real-world skills", which are actually part of the curriculum of most courses.
The University of South Wales offers a variety of scholarships. They offer scholarships up to $2500 for international students.
University of Suffolk
The University of Suffolk is located in the Waterfront Building, 19 Neptune Quay, IP4 1QJ, in the county town of Ipswich, Suffolk. The local area The beautiful surroundings of this exciting county are as wide as the coastlines are fabulously green.
In Suffolk, you can experience an American education at a university recognized by US News & World Report. The MBA online program here has the same curriculum and faculty as the highly ranked on-campus programs. Suffolk online faculty consists of world-class academics and business professionals. Faculty members regularly interact and advise students throughout their online programs. A dedicated and experienced team of Student Success Advisors provide online students with the personal support they need to succeed.
Suffolk University's ranking in the 2022-2023 edition of Best Colleges is National University, #234.
Popular programs like:
MSc Data Science and Artificial intelligence
MSc Advanced Computing
MSc Syber Security
MSc International Business and Management
Suffolk Executive MBA
MSc Stratigic People Management
MA childhood Studies
BSC Adult Nursing
BSc Computing
According to the 2021 report, 94% of full-time freshmen received a scholarship. Currently, merit scholarships for new students admitted to undergraduate degree programs range from $5,000 to $22,000. International students are automatically considered for merit scholarship funding when applying to Suffolk.
Suffolk employment rate after pass-
66.3%- Long term, full time
87.3%- Long Term (Full Time / Part Time)
85.2%- Full Time (Long / Short Term)
Bangor University
Bangor University is a public university in Bangor, North Wales. Bangor University is ranked 1st in the UK for the lowest cost of living for students. Bangor University is one of the oldest and most prestigious Universities in the World. The university offers more than 300 undergraduate and 100 postgraduate programs across 5 colleges. As per Times Higher Education World Ranking, QS has continuously placed the university at #601 since 2021.
Everyone in Bangor has been very supportive, welcoming and friendly from the international student support team to lecturers and tutors. Select from a range of Undergraduate, Postgraduate and Research degrees. The University also offers Pre-sessional, Pre-Masters and English Language courses.

Why Bangor University
Highest quality teaching in a supportive learning environment
Wide range of internships
MOI Acceptable
Last chance for Dependent Visa
Wrexham Grandeur University
Wrexham Glyndŵr University is a public research university in the north-east of Wales, with campuses in Wrexham, Northop and St Asaph. It offers both undergraduate and postgraduate degrees, as well as professional courses. The university had 6,045 students in 2019/20.
In the Times University Guide 2022, it is ranked 110th. In the Guardian University Guide 2022, it is ranked 66th. Wrexham Glyndŵr University has a strong history of welcoming international students and staff to the UK and they are very much part of our community.
This is mostly determined by the type of lifestyle chosen and the budget constraint set. The average cost of living in Wrexham for international students ranges between £1,086 and £1,166 per month. There are several factors that contribute to students' living costs.
We have an extraordinarily friendly and supportive community. Our small campus means we are a close-knit group and our students love the safe, village-like vibe at WGU. No huge class sizes meaning no getting lost in a sea of faces.
Close-knit community
It's affordable
Support when need it
Food, glorious food
A safe space to be you
Work hard, play hard
Everything's within easy reach
Vibrant culture
It's a celebrity hotspot
New student survey data from the Higher Education Statistics Agency (HESA) show that 83.8% of WGU graduates from the academic year 2020/21 are in paid employment – higher than the UK average of 81.5% and the Welsh average of 79.4%.
The University was awarded Silver in the most recent Teaching Excellence Framework (TEF 2017) and ranked 11th best university in the UK for courses and lecturers, 2018 (Whatuni Student Choice Awards). Wrexham Glyndŵr is also an industry-led university with a strong emphasis on graduate employability.