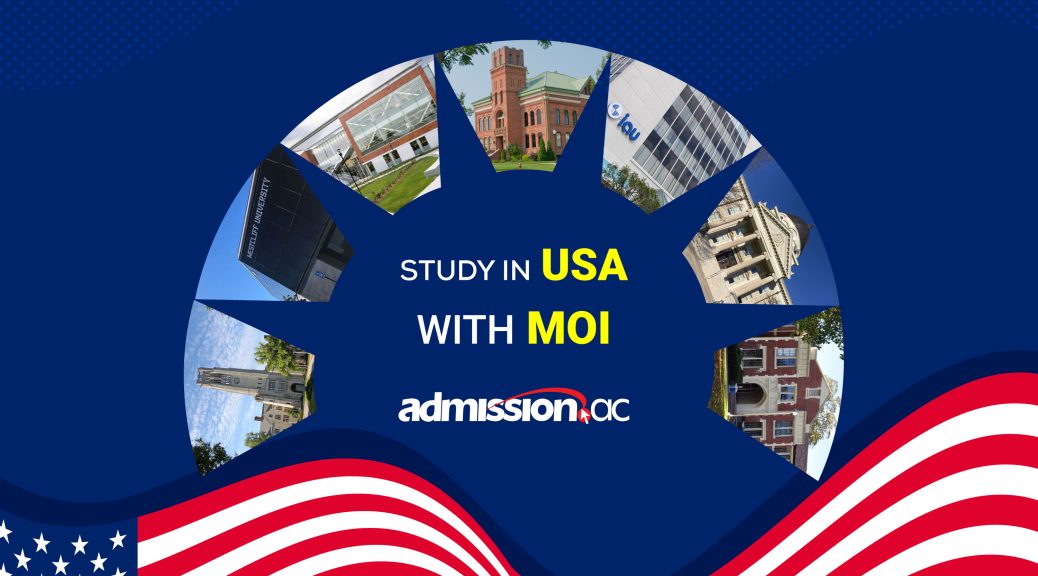 Top 8 USA universities that accept MOI
Top 8 USA universities that accept MOI
Medium of Instruction (MOI) Listed Universities in the USA: Unlocking Diverse Avenues of Knowledge
In today's interconnected world, education transcends borders and languages. The United States, renowned for its diverse academic offerings, proudly hosts a plethora of universities that embrace MOI as a means to attract a wide spectrum of international students seeking world-class education. This will delve into the world of MOI-listed universities in the USA, shedding light on their unique attributes, opportunities, and contributions to global education.
1. International American University
Scholarships are at the forefront of International American University's commitment to supporting international students. Meritorious students have access to financial aid for both undergraduate and graduate programs, easing the financial burden of higher education.
Nestled in California, the university offers a blend of academic excellence and cultural richness, providing students with a comprehensive educational experience.
Its competitive tuition fees make quality education more accessible, especially for international students.
The university's strategic partnerships with corporations open doors to enhanced career opportunities, promoting real-world applications of classroom learning.
2. Southeast Missouri State University
At Southeast Missouri State University, the commitment to global education is exemplified through merit-based scholarships available for international students.
The university is recognized for its strengths in business, engineering, and healthcare programs, attracting students seeking top-notch education in these fields.
A standout feature is its emphasis on practical learning through internships and cooperative education, empowering students with real-world skills.
Affordable tuition fees and cost of living make it an attractive option for international students aspiring to study in the USA.
3. Trine University
Trine University's generous scholarships for international students are based on academic performance, making quality education attainable for driven individuals.
The university is acclaimed for its strengths in engineering, business, and health sciences programs, catering to a diverse range of academic interests.
Collaborative research opportunities with esteemed faculty members provide a platform for students to engage in cutting-edge research projects.
The university's vibrant campus life, complete with numerous clubs and organizations, fosters an enriching student experience beyond academics.
4. University of Toledo
The University of Toledo's commitment to global education is evident through competitive scholarships designed for academically accomplished international students.
Renowned for its research contributions in various fields, the university attracts students aspiring to be part of groundbreaking research and innovation.
The university's vibrant campus atmosphere is enriched by a diverse student body, creating an inclusive and dynamic learning environment.
Located in proximity to major cities, students enjoy access to networking opportunities and potential job prospects in various industries.
5. Westcliff University
Westcliff University stands out for its scholarships available for both undergraduate and graduate programs, making higher education more accessible for international students.
Situated in Southern California, the university not only offers a favorable climate but also provides students with culturally enriching experiences.
The university places a strong emphasis on industry connections and practical skills, aligning education with real-world demands.
Internship opportunities and Optional Practical Training (OPT) further equip students for post-study work experiences in the USA.
6. Northwood University
Northwood University's commitment to global education is mirrored through scholarships and financial aid options for international students.
Specializing in business and management education, the university equips students with skills to excel in the corporate world.
Its strong alumni network, comprising successful business leaders, provides students with invaluable industry insights and connections.
The university's interactive learning environment fosters entrepreneurship and practical skill development.
7. California State University, Los Angeles
California State University, Los Angeles, offers a wide range of scholarships to attract and support international students in their pursuit of higher education.
With diverse academic programs spanning various disciplines, the university caters to a wide array of student interests and career aspirations.
Situated in the vibrant city of Los Angeles, students benefit from proximity to industries and internships, enhancing their practical learning experiences.
The university's emphasis on community engagement and social responsibility nurtures well-rounded graduates who are equipped to make a positive impact.
8. Santa Rosa Junior College
Santa Rosa Junior College underscores its commitment to global education through scholarships and fee waivers dedicated to international students.
The college offers transfer pathways that lead to prestigious universities for bachelor's degrees, providing a stepping stone to higher education in the USA.
The supportive environment at Santa Rosa Junior College helps international students seamlessly adapt to the American education system.
Situated in the picturesque Sonoma County region, the college offers an inspiring backdrop for academic pursuits and personal growth.
Unlocking Academic Horizons with MOI-listed Universities in the USA The pursuit of education knows no boundaries, and the medium of instruction plays a pivotal role in fostering global learning experiences. MOI-listed universities in the USA stand as a testament to the country's commitment to providing diverse and inclusive education to international students. From scholarships that ease financial constraints to practical learning opportunities that bridge the gap between theory and practice, these universities create a holistic environment for academic growth. The diverse locations, strong industry connections, and post-study work opportunities further enhance the appeal of these universities. As students embark on their educational journey, MOI-listed universities in the USA offer a pathway to excellence, cultural exchange, and personal enrichment that extends far beyond the classroom.