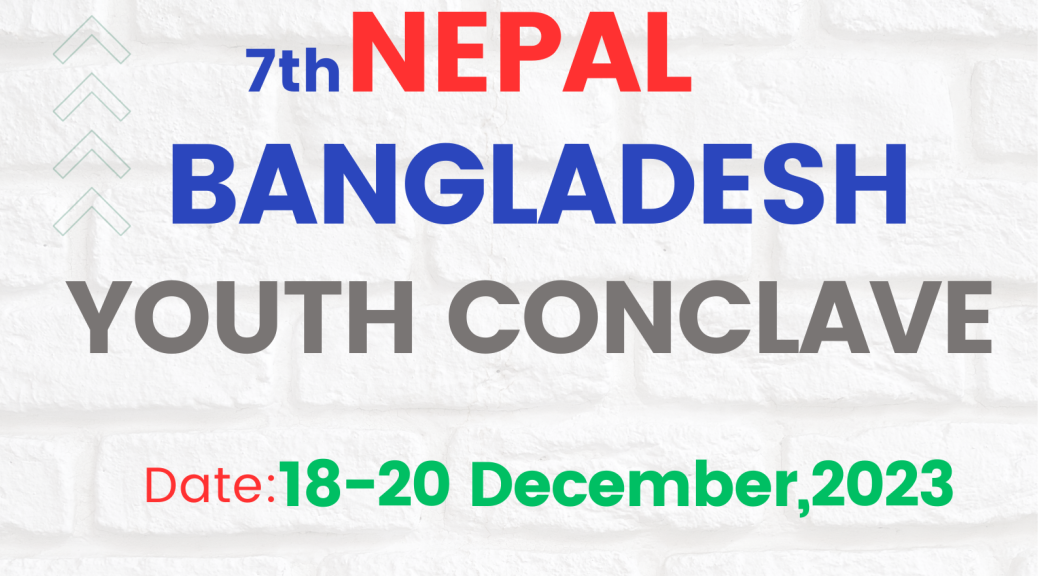 Nepal Bangladesh Youth Conclave 2023
Nepal Bangladesh Youth Conclave 2023
In an increasingly interconnected world, it is more important than ever for the youth of different nations to come together, share ideas, and work towards common goals. The Nepal-Bangladesh Youth Conclave is a shining example of this, a collaborative initiative that has been bringing young leaders from Nepal and Bangladesh together since 2017. This incredible effort is not only renewing friendships between the youth of the two countries but also inspiring them to join hands for the development of their respective communities.
Over the years, the Nepal-Bangladesh Youth Conclave has successfully organized six conferences, with enthusiastic participation from young leaders representing diverse areas of interest. These gatherings have provided a unique platform for dialogue, collaboration, and the exchange of ideas. The outcomes of these conclaves have been truly remarkable, with young leaders forging lasting connections and working together on initiatives that benefit their nations.
In an exciting development, the 6th edition of the conclave coincided with the 2nd Bangabandhu Youth Conference on Sustainable Development Goals and Climate Change. This was part of the Bangladesh Embassy's outreach program, aimed at connecting the youth of both countries. The confluence of these two major events served as a reminder to the youth that the critical issues of sustainable development and climate change should always be at the forefront of their minds when planning their future endeavors.
The primary objective of the Nepal-Bangladesh Youth Conclave is to strengthen bilateral relations between these two South Asian nations. It provides an invaluable platform for young leaders to establish connections and explore opportunities for mutual cooperation. The power of these interactions lies in their ability to transcend borders and foster a sense of togetherness that knows no geographical boundaries.
These youth conclaves are not just about building connections; they are also about solving problems and finding common solutions. Young leaders from Nepal and Bangladesh come together to discuss and address the challenges they face. In doing so, they not only contribute to the development of their own communities but also learn from each other's experiences, benefiting from diverse perspectives and innovative solutions.
The 7th edition of the Nepal-Bangladesh Youth Conclave is a testament to the commitment of both nations to nurturing the potential of their youth and strengthening the bonds of friendship. As these remarkable young leaders come together once again, we can expect new friendships to bloom, fresh ideas to emerge, and collaborations to be born, all in the spirit of a brighter and more interconnected future for Nepal and Bangladesh.
Nepal Bangladesh Youth Conclave
| | |
| --- | --- |
| Where | Kathmandu, Nepal |
| When | December 18-20, 2023 |
| Venue | Embassy of Bangladesh, Kathmandu, Nepal |
| Registration Fees | USD 150 |
| Fees will cover | Pick up-drop to airport in Kathmandu, 3-night accommodation in twin sharing basis, all meals, program kits, Certificate |
| Key Feature of the program | Platform For discussion of social economic issues of Nepal & Bangladesh Find the potential social and business collaborationExchange views & ideas Cultural exchangeExploring Nepali lifestyle, tradition and places |
| Other Cost | Air ticket, personal & other |

Contact Information:
Admission.ac
Mail: info@admission.ac
+8801847334731-2 (WhatsApp)