Seminar on Study, Work & Settle in the USA by Admission.ac at DIU
Seminar on Study, Work & Settle in the USA by Admission.ac at DIU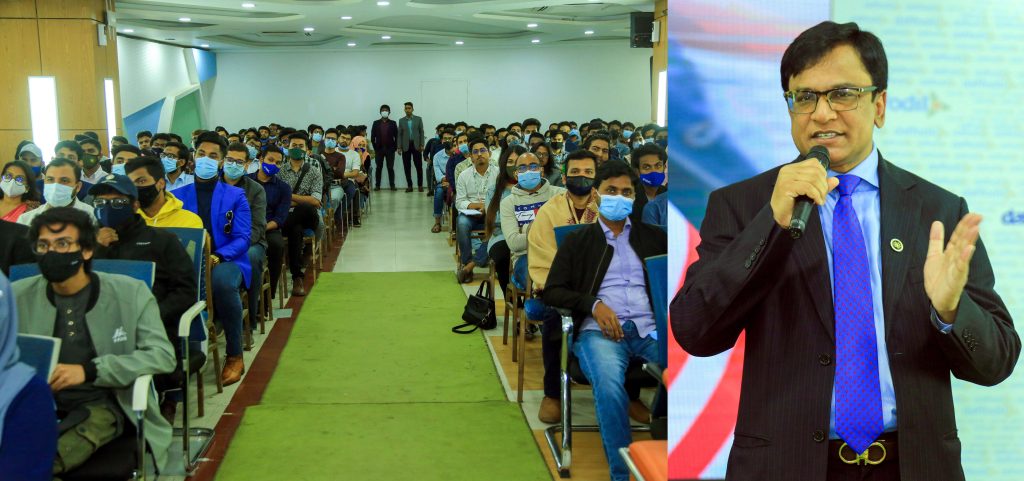 Admission.ac (a concern of Daffodil Family) in collaboration with Daffodil International University organized a seminar on the study, work and settle in the USA on January 13, 2022, at 71 Milanayatin, DIU. The seminar is supported by Career Development Center, DIU, Skill.jobs & IGlobal University. The seminar discusses how to prepare for higher education in the United States. The main objective of the seminar was to give students a unique opportunity to learn how to choose the right career path. Around 2000 participants from different universities attended the seminar.
Engr. Abubokor Hanip, the Chancellor of IGlobal University, USA was the Keynote Speaker of this seminar. Mohammad Nuruzzaman, Group CEO Daffodil Family, Professor Dr. Touhid Bhuiyan, Head, Department of Computer Science and Engineering, DIU & Kazi Mesbah Ur Rahman, Head of Operations, Admission.ac were also present as the speakers at the Seminar.
At the end of the seminar a partnership agreement between Admission.ac & IGlobal University was signed. Under this agreement, Bangladeshi students will get Admission, scholarships, and other logistic support to pursue higher studies in the USA.