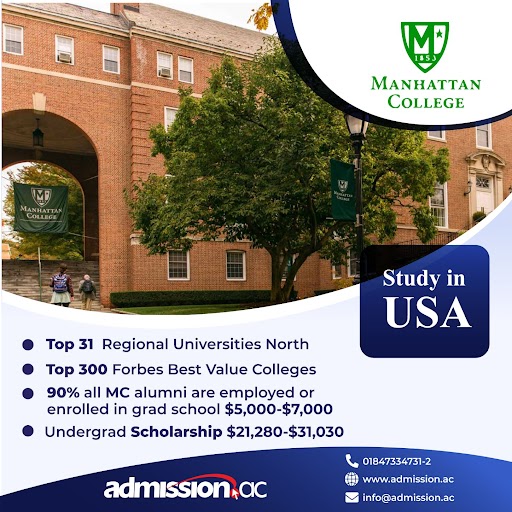 Manhattan College
Manhattan College
Manhattan College is a private, Catholic, coeducational institution located in the Riverdale neighborhood of the Bronx, New York City. With a strong commitment to the Lasallian tradition, the college provides students with a high-quality education and prepares them for successful careers and lives of leadership and service. Manhattan College provides students with a quality education, diverse learning experiences, and practical skills that are essential for success in today's rapidly changing world. In short, studying at Manhattan College provides students with a well-rounded education in a dynamic and supportive environment. Manhattan College's ranking in the 2022-2023 edition of Best Colleges is Regional Universities North, #16.
The College is located in the heart of New York City, providing students with easy access to cultural and career opportunities. The address of Manhattan College is: 4513 Manhattan College Pkwy, The Bronx, NY 10471, USA.
Programs:
Manhattan College offers a wide range of undergraduate and graduate programs in various fields of study. Some of the programs offered include:
Civil engineering
Mechanical engineering
Finance
Communication
Management science
Psychology
Marketing/marketing management
Computer and information sciences
Accounting
Chemical engineering
Graduate programs offered include:
Business Administration (MBA)
Engineering
Education
Physical Therapy
Manhattan College offers a number of scholarships, grants and special programs for qualified students to help you pay for the cost of attending Manhattan College. Scholarships and grants do not need to be paid back. The amount of scholarship varies from $15,000 to $32,000 per academic year. They do not provide full academic scholarships.
The average cost of tuition at any 4-year institution is $19,020 or 53.5% of college costs. At public 4-year institutions, the average in-state tuition and required fees total $9,377 per year or 36.5% of the cost of attendance. Public 4-year out-of-state tuition and fees average $27,091 or 62.4% of college costs.
Their Office of Career Pathways produces an annual report assessing career outcomes for each graduating class. Highlights of the report for the most recent class include:
85% of graduates are employed full time or enrolled in graduate school
87% reported that their employment is related to their field of study
The median salary range is $60,000 – 70,000
Overall, Manhattan College offers an excellent education and a supportive community that prepares students for successful careers and lives of leadership and service. With its strong commitment to academic excellence and its focus on experiential learning, Manhattan College is an ideal place for students to grow, learn, and thrive.