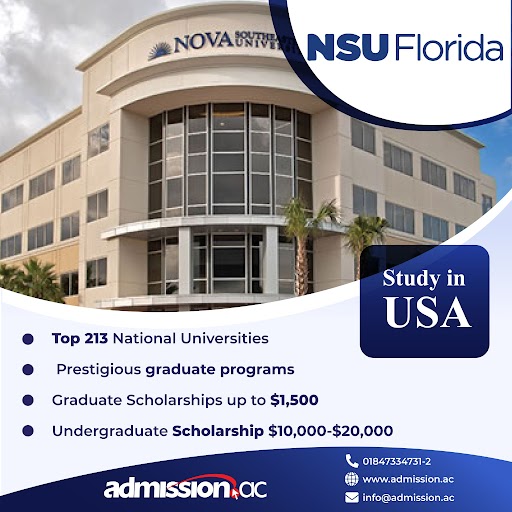 Nova Southeastern University (NSU)
Nova Southeastern University (NSU)
Nova Southeastern University (NSU) in Florida is a comprehensive research university that offers a wide range of undergraduate and graduate programs in a variety of fields, including business, education, law, nursing, and the health sciences. Here are some reasons why you may want to consider studying at NSU:
Diverse programs
Strong research focus
Experienced faculty
Location
Supportive environment
Internship and research opportunities
Entrepreneurial mindset
Attending NSU can provides with a well-rounded education and the skills and knowledge you need to succeed in your future career. If anyone is considering studying at NSU, recommend reaching out to the admissions office for more information about the programs and services offered.
Nova Southeastern University's ranking in the 2022-2023 edition of Best Colleges is National Universities, #219. Location of NSU Florida is 3301 College Ave, Fort Lauderdale, FL 33314, USA.
Programs of NSU Florida:
Bioinformatics (Undergraduate Minor)
Biology (B.S.)
Biomedical Sciences (M.B.S.)
Business (Undergraduate Minor)
Business Administration (M.B.A.) – Dual Admission
Business Agility and Innovation (M.S.)
Business Intelligence / Analytics Certificate
Business of Health (B.S.)
Each year, Nova Southeastern University offers countless scholarship opportunities for undergraduate, graduate, and first professional students aimed at recognizing the academic achievement and leadership potential of future students. Nova Southeastern University/Undergraduate tuition and fees 34,570 USD.
Graduates from Nova Southeastern University (NSU) in Florida have a strong track record of success in the job market. The university's comprehensive programs, cutting-edge research, and dedicated faculty provide students with the skills and knowledge they need to succeed in their chosen careers. NSU has a number of resources and services to help students and alumni with their job search, including career services, job fairs, and professional development workshops. The university also has a strong network of alumni who are working in a variety of industries, providing current students and graduates with a valuable resource for networking and job searching. Some of the industries that NSU graduates have gone on to work in include healthcare, business, education, law, technology, and more. Additionally, the university's location in South Florida provides students with access to a large and growing job market, with many opportunities for growth and advancement.