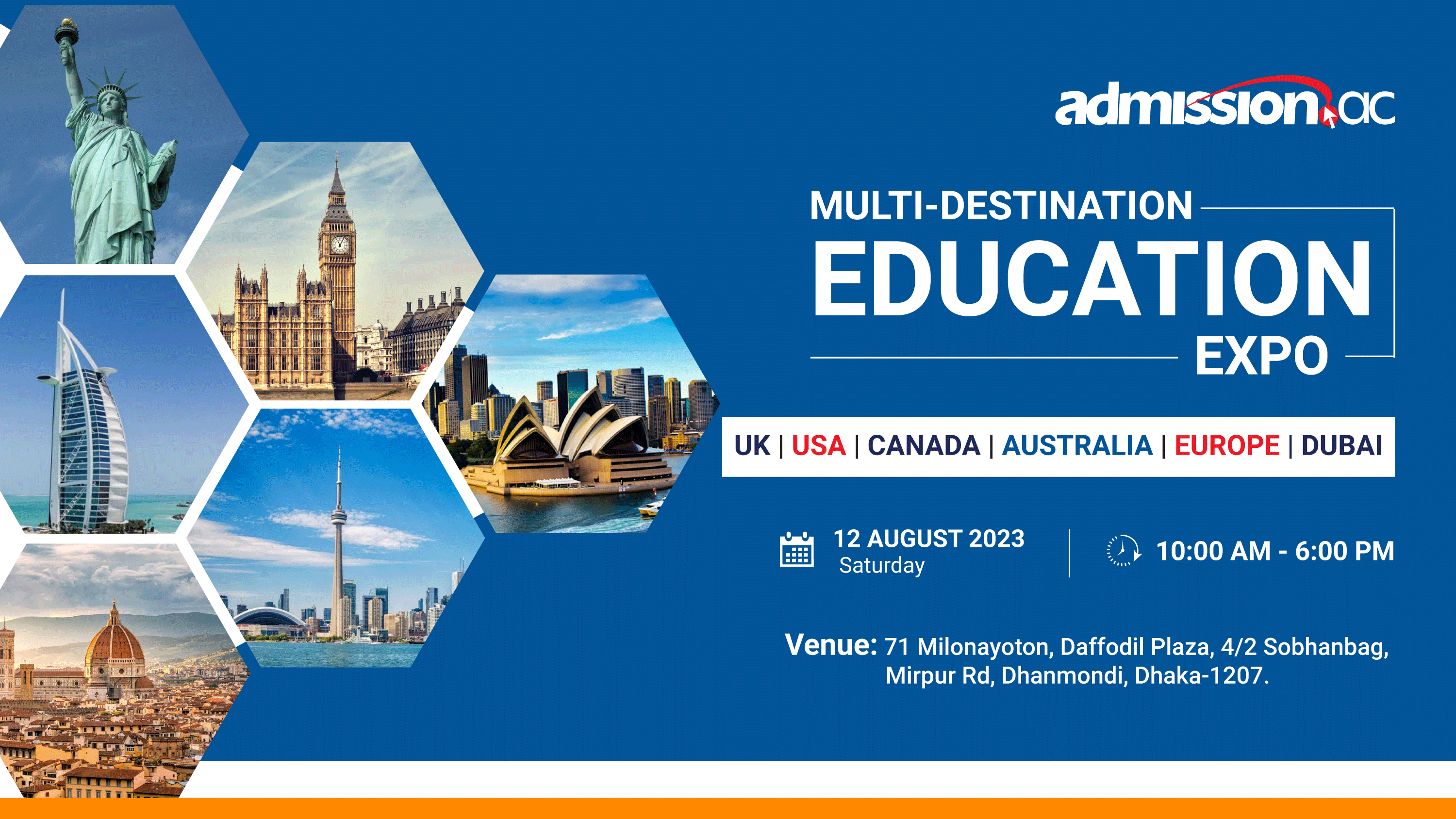 Multi-Destination Education Expo 2023
Multi-Destination Education Expo 2023
Every year, millions of ambitious Bangladeshi students embark on a quest for higher education, and their dreams often lead them to explore opportunities abroad. In response to this growing demand for global education, Admission.ac, a concern of Daffodil Family, is proud to present the "Multi-Destination Education Expo 2023" at 71 Milonayoton, Daffodil Plaza, 4/2 Shobhanbag, Mirpur Road, Dhanmondi, Dhaka 1207. This groundbreaking event will bring together representatives from renowned universities across the United Kingdom, United States of America, Canada, Australia, New Zealand, Dubai, and Europe to guide and counsel aspiring students. On the 12th of August 2023, hundreds of eager students, instructors, and parents will gather at this remarkable expo to secure their futures and explore the countless opportunities to serve the world.
A Platform for Aspiring Minds:
The Multi-Destination Education Expo 2023 is more than just an event; it is a platform for dreams to come true. With an array of representatives from top-tier universities, this expo offers Bangladeshi students the chance to interact directly with esteemed educators, gain valuable insights about various courses, scholarships, and study opportunities, and receive personalized counseling tailored to their academic aspirations.
Desirable Destinations:
The allure of studying in prestigious educational institutions in countries like the USA, Canada, and Australia has captured the hearts and minds of the majority of the students. The United Kingdom and Europe have also garnered immense interest among the young scholars. These countries are renowned for their world-class education, cutting-edge research facilities, and culturally diverse campuses. By participating in the expo, students can learn about the distinct academic programs, admission requirements, and the vibrant campus life each country has to offer.
Fulfilling Ambitions:
As the Multi-Destination Education Expo 2023 unfolds, it is heartwarming to witness the dreams of countless students materializing before our eyes. The event has been meticulously designed to ensure that every attendee finds the guidance they need to pursue their chosen fields and build a successful future. Whether they seek undergraduate, graduate, or postgraduate studies, students can explore numerous options that align with their ambitions and goals.
Empowering Beyond Borders:
Education is the key to unlock one's true potential, and this expo aims to empower students to become global citizens. By studying abroad, young minds gain exposure to diverse cultures, perspectives, and experiences, fostering a deeper understanding of the world around them. This holistic approach to education not only enhances academic knowledge but also nurtures personal growth, self-confidence, and adaptability – qualities that are crucial in today's interconnected world.
Support for Parents and Instructors:
Understanding the pivotal role of parents and instructors in a student's educational journey, the expo extends its support to them as well. Parents can gain valuable information about visa procedures, financial assistance, and safety measures in various study destinations. Instructors, on the other hand, have the opportunity to explore collaborative research programs, faculty exchange initiatives, and partnerships with international universities to enrich their own academic careers.
Participating Universities:
the Multi-Destination Education Expo 2023, the respected representatives from the universities of:
Australia
Federation University
University of Technology in Sydney
Charles Darwin University
Canterbury Institute of Management
La Trobe University
England
University of South Wales
University of Portsmouth
Wrexham Glyndwr
Nottingham Trent University
Canada
Memorial University
Laurentian University
USA
International American University
Trine University
Bridgewater State University
Avila University
Webster University
University of South Dakota
English proficiency Skills Experts
At the Multi-Destination Education Expo 2023, students will have the exclusive opportunity to seek guidance from esteemed experts in IELTS, GMAT, GRE, and TOEFL. These language and aptitude tests play a crucial role in the admissions process for many international universities, making them a vital aspect of a student's study abroad journey. With the presence of experienced specialists in these exams, attendees can receive personalized tips, strategies, and insights to excel in their test preparations. Whether it's honing language skills for IELTS and TOEFL or mastering critical thinking and analytical abilities for GMAT and GRE, these experts will provide invaluable support to ensure that students are well-prepared and confident as they take their first step towards a rewarding education abroad.
As the "Multi-Destination Education Expo 2023" approaches, excitement is building among Bangladeshi students, parents, and educators alike. The chance to interact with representatives from esteemed universities in the USA, Canada, Australia, the UK, Europe, and beyond has never been more accessible. This expo promises to be a transformative event that will shape the futures of countless students, enabling them to embark on a journey of academic excellence, personal growth, and global understanding. Admission.ac and the Daffodil Family are thrilled to host this remarkable event and play a part in making dreams come true. So, mark your calendars for the 12th of August 2023 and be a part of this extraordinary voyage into the world of education. Your future awaits.